Do you have an existing website that is now looking a little tired?
Is it not attracting enough customers for you?
More importantly, are your customers having trouble finding your website on Google search?
If the answer is Yes to all of the above then it is most likely that you will need a website makeover. Based in Box Hill and Ringwood (Vic.) and servicing local businesses in all of Melbourne's eastern surrounding areas, Website Consultants are leaders in re-designing existing websites that attract a lot more customer leads.
In today's fast-moving digital age, there is no question that a website is more important to your business than it ever were. A website makeover will help keep your business competitive – especially when times become tough. Read on to learn more.
If you are a business that deserves a website makeover, then contact us for a free consultation.
8 Reasons Why Your Business Website Needs a Makeover
1. YOU GET A BOOST ON GOOGLE = MORE SALES!
Is your business suffering falling sales this year? There are a number of factors that contribute to falling sales but one major contributor could be that your competitors are now more visible online than you once were. Websites must continually evolve and search engine optimised to remain highly visible on Google. If your website remains stagnant and forgotten but your competitor's websites continue to be well optimised, Google will then think that your competitors are more up to date and more relevant to your customers. Google will then rank your competitors' websites higher than yours, ultimately attracting more customer leads away from you. That's lost opportunities for your business. A website rebuild often gives you that needed boost on Google.
2. A WEBSITE MAKEOVER REVITALISES YOUR BUSINESS ONLINE
A website makeover allows you to re-think how you want to be re-positioned in the marketplace. A re-think could uncover search terms that you have not thought about before. You will then know fresh topic areas relating to your products and services that you could write about for your new and existing customers to read. It is a way to tell them that you have something new to offer. Website features like blog posts can keep your customers up to date and connected to your business and what's more, search engines like Google loves them. This makes your website (your business) more visible in searches and ultimately attracting you more customers.
3. YOU ATTRACT A LOT MORE CUSTOMERS ONLINE
Ultimately of course, when your revamped, mobile responsive website is liked by Google, your website features more prominently on the search engine. As it reaches out to more internet traffic, it will attract you more leads and more customers. Attracting more internet traffic also builds a compounding effect. Google will see your website with more traffic to mean it is a more authoritative website and is quite likely to rank you even higher on search results. Better still have it bi-lingual, in English and Chinese. This again attracts you more customers. It's a win-win all round.
4. YOU GET FOUND ONLINE ON MORE MOBILE DEVICES
Did you know that mobile devices (mobiles and tablets) now make up 56% of internet traffic? This is growing every year as the use of smart devices. Why is this important to you? If your current website is not optimised for mobile traffic, there is a chance that your website will get penalised by Google. That means that your website will not feature as prominently on the search engines simply because mobile users will not be able to properly view your website. Don't lose your traffic leads to your competitors. A website makeover will ensure that your new website is more mobile responsive.
5. IT ENHANCES YOUR CREDIBILITY AND GAIN MORE RESPECT ONLINE
Today's customers are more mobile and online savvy than they ever were. Your business credibility will grow by having a website that attracts their attention and make them want to go with you and not with your competitors. A professionally revamped website can educate your customers about your products and services and they will become more informed about you. This will inspire them with greater confidence when they make a purchase, knowing that they are making the right decision by choosing you.
6. YOU GAIN A PSYCHOLOGICAL ADVANTAGE OVER YOUR COMPETITORS ONLINE
Did you know that your competitors will also notice after you have a website makeover? It actually makes them sit up and take notice and wonder what is different about you. That's OK, because you now have a psychological advantage over them. They would be wondering what else they might be doing wrong and you are doing right. During your website makeover new opportunities could be uncovered for your website to rank higher on Google ahead of your competitors. We do a comparative analysis of your competitor websites, the sites' strengths and weaknesses, and areas of opportunities where your site could do better.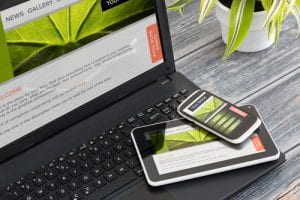 7. A BETTER REDESIGNED WEBSITE IMPROVES YOUR BUSINESS RESILIENCE FOR WHEN TIMES GET TOUGH
When economic times are good, many businesses think that they do not need to revisit their website and can rely on steady traffic and word of mouth. However when times are bad, a website and its visibility on search engines could help your business continue to prosper simply because it attracts other customers who still need your products and services. Your existing customer base might no longer need your products and services during tough times, but your website will help you cast a wider net out at sea for new customers. This is a why it pays to consider whether your website will need a makeover not only to uncover fresh opportunities, but to remain resilient when times get tough.
8. A BETTER REDESIGNED WEBSITE INCREASES YOUR BUSINESS VALUE
This may be the last point, but it is one that is equally important. Did you know that the perceived value of your business increases when your website is highly optimised, attracting large customer leads? This makes an optimised website a valuable asset to your business. If you are considering selling your business one day, your valuable website will only further add to the value of your business. A website makeover could help you achieve that.
How Can Website Consultants Benefit Your Business?
Do you want to target Chinese speaking buyers in your area? Not a problem! We can do that for you. We also speak the language so you don't have to worry about a poorly translated website (see how we write Chinese at our page on Chinese Website Design).
Fundamentally, we know how to build websites that search engines will love. That means getting you found on search results that attract you valuable new customer leads that supports the growth of your business and sustain your business in tougher economic times.
We work with you during the design process, to understand your business, your future directions and your desired outcomes. This enables us to build you a solid website that grows with your business. Our website development includes analysis of your marketplace and the setup of strong Search Engine Optimisation (SEO) foundation and high quality SEO site structure.
We create websites on popular content management platforms that are loved by desktop and mobile devices. This gives you a choice to either create future content yourself, or leave to us to update your site with friendly, search engine optimised content that attracts future customer leads (the latter option of course allows you to continue to focus on running your core business).
Our expertise in search engine optimisation helps you attract well targeted search traffic to your website, providing your business with a steady flow of customer leads like a well-oiled perpetual machine.
Every new website that we design and build includes:
Google search optimised website design, site structure and content, including glossy images
Desktop and mobile responsive webpages
Website security and backup
Website Consultants are specialists in bi-lingual websites and search engine optimisation (SEO) services. Based in Box Hill and Ringwood (Victoria), we service local businesses in all sectors across Melbourne's eastern suburb corridor.
If you are a business that deserves a website makeover, then contact us for a free consultation.